Which offers good-quality time and experience

Wellness Business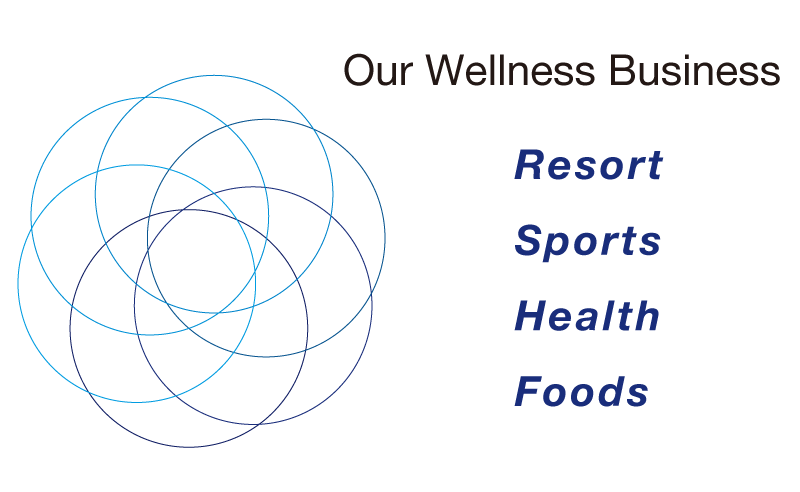 In 2018, the Blue Group decided to launch a "Wellness Business." By utilizing the experience of regional revitalization projects in the Development Business, we will offer refreshing, good-quality, fulfilling time and experience based on the cross-functional cooperation among the business sections in the leisure and health fields, including "resort facility operation," "sports promotion," "health," and "food culture promotion."
Firstly, we will renew and open ski slopes and a golf course as world-class all-season mountain resorts. We will conduct business administration by utilizing the strengths of group companies, for example, using renewable energy for gondolas, lifts, snow cannons, and hydroponic culture for vegetables, etc. to be served at hotels and restaurants.
We will offer a variety of solutions for new lifestyles in coming ages, that is, living as a member of sustainable society while using clean, environmentally friendly energy and caring for our own physical and mental health.
Golf course

Royal Blue Golf Resort
A golf resort richly endowed with nature at an altitude of 1,100 m in Tsumagoi Village, Agatsuma District, Gunma Prefecture. Course layouts are designed strategically while utilizing natural undulations. Please enjoy playing golf, in the field surrounded by grand mountains, including Mt. Asama, Omotemanza, and the Azuma peaks.

Blue Resort LANDMARK GOLF CLUB
Blue Resort Landmark Golf Club, an outstanding course was designed by Mizuno based on the golf theory of a professional golfer Seiha Chin and is landscaped with ingenuity, so that players can experience the intrinsic pleasure and richness of golf in the thrilling hilly course.
Ski resort

Blue Resort MINOWA
A ski slope whose base area is at an altitude of 1,050 m, with the aim of opening the facility earlier than any other ski resorts in the Tohoku region. Skiers are welcomed by soft rime and can savor splendid dry snow.
Blue Resort HAKUBA SANOSAKA
A ski resort, which boasts the snow quality unique to Hakuba and a slope where skiers can enjoy a sense of sliding toward Lake Aoki while viewing the grand mountains surrounding Hakuba.
Blue Resort YANABA
A ski resort across Lake Aoki from Blue Resort HAKUBA SANOSAKA.
*in preparation
Blue Resort NORIKURA
Celestial snow resort at an altitude of 1,500 m. The natural milky-white hot spring and the splendid powder snow are popular. This resort includes a kids' park where little children can play and a variety of ski courses where beginners, intermediate skiers, and experts can enjoy themselves.

Blue Resort ECHOVALLY
In Blue Resort ECHOVALLY, which boasts fresh powder snow, a high ratio of fine weathers exceeding 80%, and a spacious slope, a broad range of customers, including beginners and experts, can enjoy skiing.
Hot springs for day usage (no lodging)
Norikura Kogen Yukemurikan
A bathing facility for day-trippers, which boasts a natural milky-white hot spring. At restaurants in the building, customers can enjoy hearth-baked pizzas, rigorously-chosen pastas, craft beer, etc.
Foods
"Food" is vital for mental and physical health. Accordingly, we started producing safe, reliable ingredients by ourselves. In addition, we operate a Japanese-cuisine restaurant, with the hope of further diffusing the "Japanese food culture," in which customers savor seasonal ingredients and appreciate producers.
We plan to keep increasing businesses that would contribute to the Japanese "food culture promotion."

Blue Farm
An eco-farm, which grows fresh vegetables in a greenhouse with an area of 3,000 ㎡, by using renewable clean energy in hilly and mountainous areas endowed with nature in Yamagamachi, Kitsuki City, Oita Prefecture.
Harvested vegetables are shipped to the "Akasaka Harada."
Akasaka Harada
A Japanese-cuisine restaurant, which cooks safe, reliable vegetables grown at Blue Farm, and rigorously-selected ingredients from various regions in Japan with proficient techniques, which take full advantage of the blessings of four seasons.
Customers can experience the authentic Japanese food culture in a relaxing space with a Japanese traditional atmosphere. On the first floor, there is "Kappou Harada," where customers can savor Japanese dishes casually. On the second and third floors, customers can use tatami-mat rooms for entertainment and banquets, including small and large private rooms.
Sports
Sports don't only enrich life and make it more fulfilling, they are also one of humanity's common cultures that meet humans' physical and mental desires. The Blue Group considers "sports as a culture," which produce some effects on the body and the mind, indispensable for forming "bright, prosperous and vigorous sustainable society" in the era to come. Therefore, we decided to start a sports culture promotion project.
Furthermore, the Blue Group will carry out a wide range of support activities such as sponsorship agreements with athletes and tournaments in order to make a further social contribution.