Create a new lifestyle

Renewable Energy Business
We have actively promoted power generation projects utilizing renewable energy in order to create a new lifestyle that will fit in the age to come, i.e., "lifestyle that uses clean energy that can reduce CO2 emissions and contribute to the realization of a sustainable society."
We gained experiences mainly in developing large-scale solar power generation facilities, and also started the operation of wind and biomass power generation facilities.
In addition, we started the production and sale of Energy Storage System (ESS) "Blue Power Battery" and will offer better solutions including storage of electricity.
Large Scale Solar Power Generation
Assessment → certification → development → construction → O&M.

All steps are undertaken by enterprises of the Blue Group under its consistent operation system.
We select "land" that is most suited for solar power generation through a unique marketing based on the company's rich experience and achievements in the Development Business.
We carry out formalities such as getting certification of facilities by the Ministry of Economy, Trade and Industry (METI), approval for system interconnection from electric power companies and other types of authorization, smoothly using our unique channels.
Construction work is not undertaken by subcontractors or other companies but the group enterprise "Blue Power Construction Co., Ltd." that specializes in construction of power plants performs work with "safe and secure" as its motto under the company's consistent operation system.
"Blue Power Energy Co., Ltd." provides assistance in the operation and maintenance (O&M) after installation of the plant, and also in installation of electricity storage systems.
Energy Storage System(ESS)
"Blue Power Energy Co., Ltd." produces and sells the Energy Storage System (ESS) named "Blue Power Battery."
While the amount of energy produced by solar and wind power generation is affected by weather conditions, the Energy Storage System (ESS) can offset or balance such an unstable power output and ensure a stable supply of energy. Therefore, its importance has been on rise with the spread of power generation methods using renewable energy.
"Blue Power Battery" has a battery capacity of 2.2MW and can be used widely, from households to large-scale power stations. The number of cases where it has been used is rapidly increasing.
Small Wind Power Generation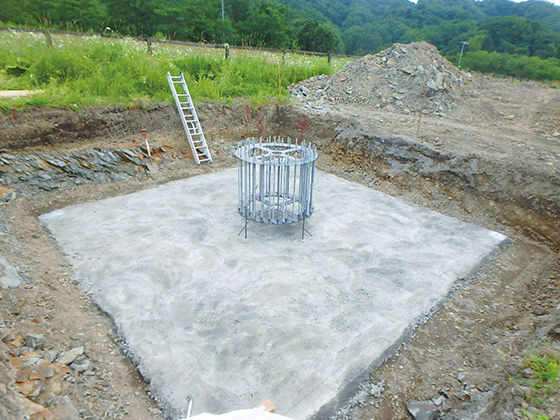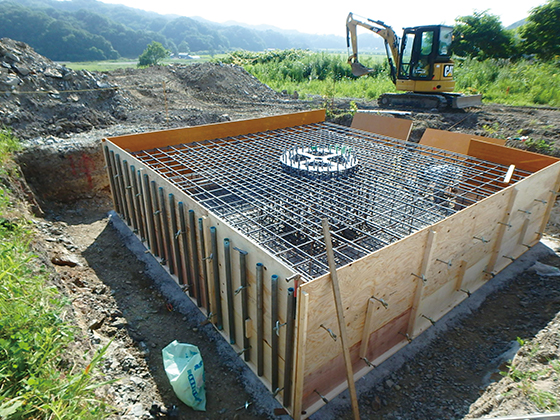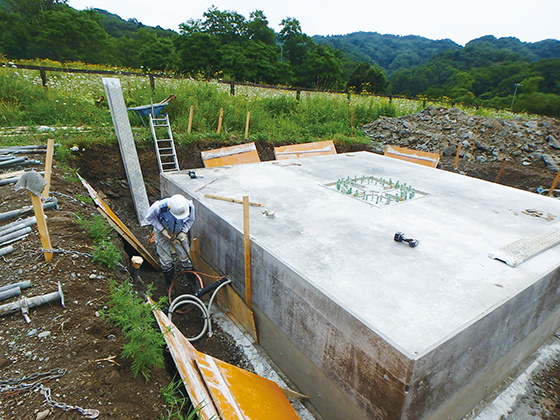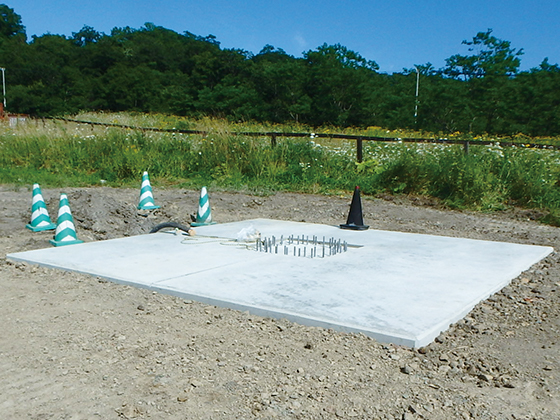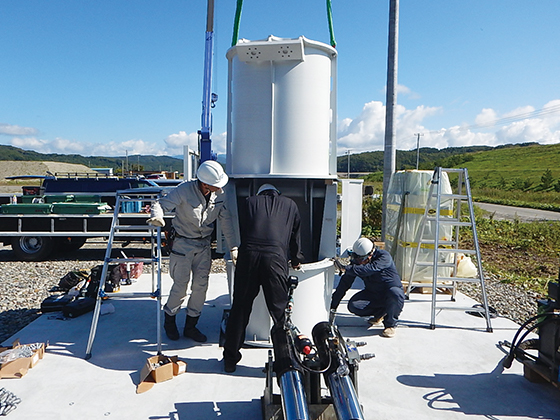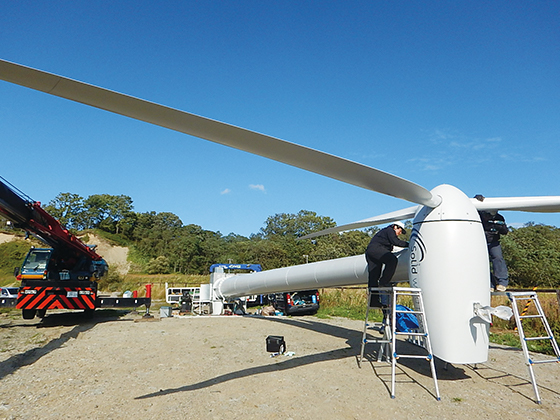 | | |
| --- | --- |
| Manufacturer | Solid Wind Power |
| Generation capacity | 19.80kW |
| Rotor diameter | 14m |
| Hub height | 18m |
The Blue Group also started projects on small wind power generation, which can operate during both daytime and nighttime, and has been receiving attention for its high profitability with the enactment of the feed-in-tariff system in 2012.
Biomass Power Generation
Biomass power generation is a method to generate power using wood resources and other materials derived from living organisms.
Biomass power generation is based on the concept that biomass power is "carbon neutral" since it is said that the amount of CO2 absorbed during the growing phase of the biomass fuel resources used in the power generation is equivalent to the amount of CO2 emitted during the combustion of the biomass fuel. Therefore, the process as a whole does not increase or decrease the amount of CO2 in the atmosphere.
The main fuel used at our company's biomass power plants is from a Malaysian PKS (Palm Kernel Shell) collecting / selling company (a company affiliated with our company) which is expected to provide a stable supply of 400,000 tons annually. As for the progress of the power plants, it is ongoing successively starting with the power plant in Handa City, Aichi Prefecture.
*Our company is expected to collect 1 million tons of PKS annually.
PKS collecting / selling company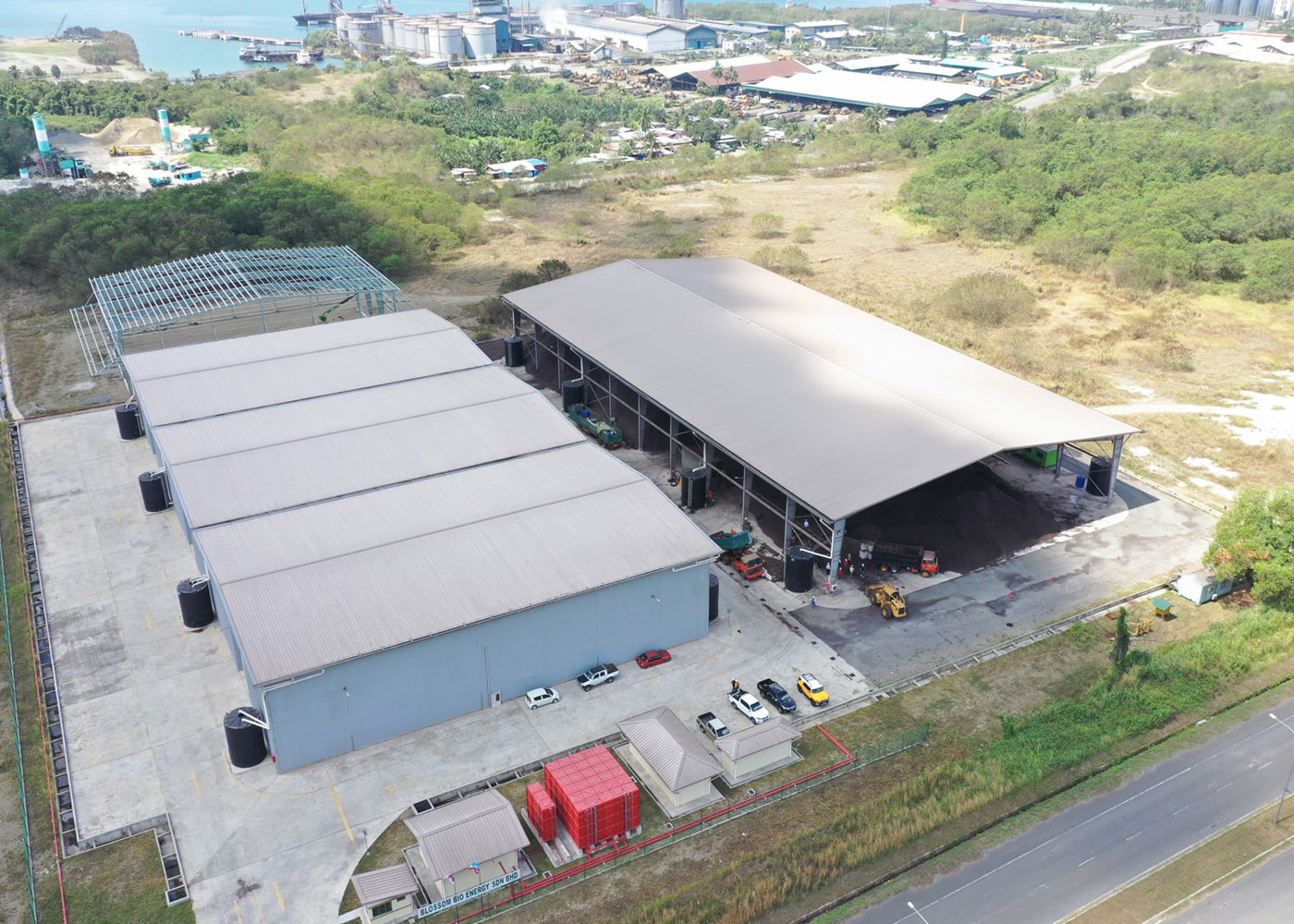 | | |
| --- | --- |
| Company Name | Blossom Bio Energy Sdn. Bhd. |
| Location | Lahad Datu District, Sabah State, Malaysia |
| Lines of Business | PKS collecting / selling |
The structure of the palm fruit
The shell part of the palm fruit is used as PKS (Palm Kernel Shell).